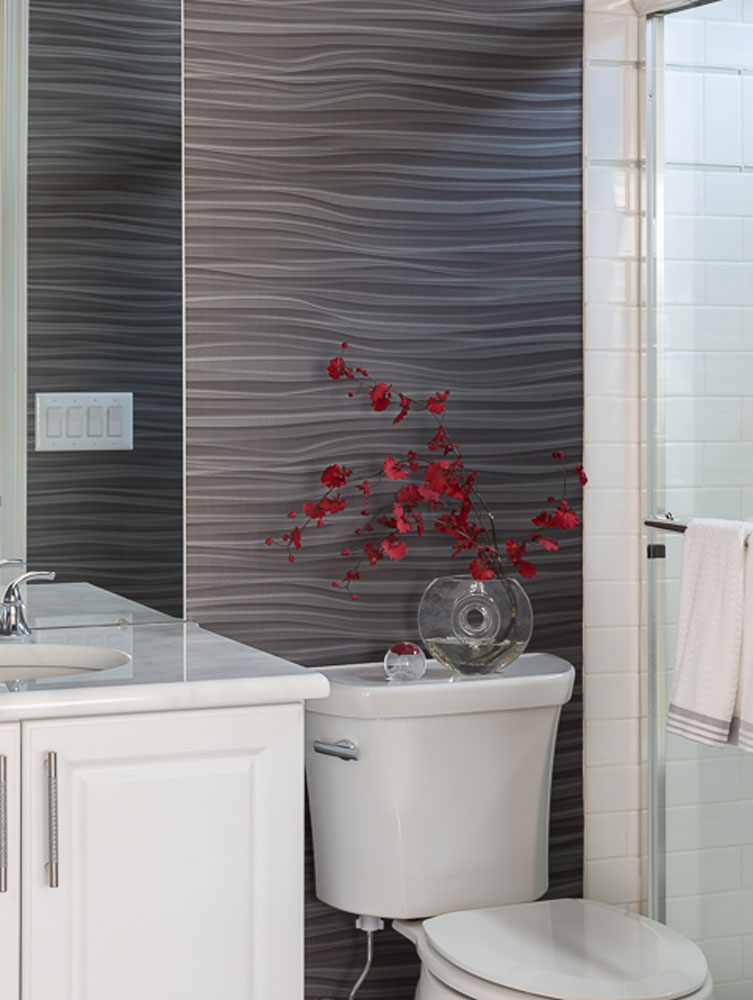 Interesting textured wall covering in varying shades of gray punches up the very simple guest bathroom.
Photography - Lauren Hagerstrom
Several factors brought wallpaper back into the spotlight: trends moving from minimalism to maximalism; easier application and removal; and a move toward non-toxic chemicals. Over each of the past five years, overall wallpaper sales have increased dramatically - The Wall Street Journal reports that in the commercial and hospitality industries alone, there has been a 27 percent increase.
With today's ever-increasing awareness of the importance of good indoor air quality, many wallpaper manufacturers are responding by replacing toxic VOC-laden chemicals with low- or no-VOC alternatives. VOCs (volatile organic compounds) create off-gassing and pollute indoor air, which can cause allergic reactions, worsen asthma, and cause other respiratory problems as well as headaches and other health issues. By eliminating dangerous elements like phthalate plasticizers, antimony fire retardants, ink made with formaldehyde, and barium-zinc stabilizers and replacing them with safer choices, wallpaper manufacturers are helping homeowners, schools and businesses to achieve better air quality, which results in fewer illnesses and better productivity.
Unlike wallcoverings in the past, today's wallpapers are much more user-friendly. Changes from oil-based pastes to water-soluble adhesives make for much easier application and removal, eliminating hours of painstaking work. In addition, rather than there being only one type of adhesive paste for every different kind of wallpaper, there are different types of adhesives suited to specific types of wallpaper, making for easier application with a better end result.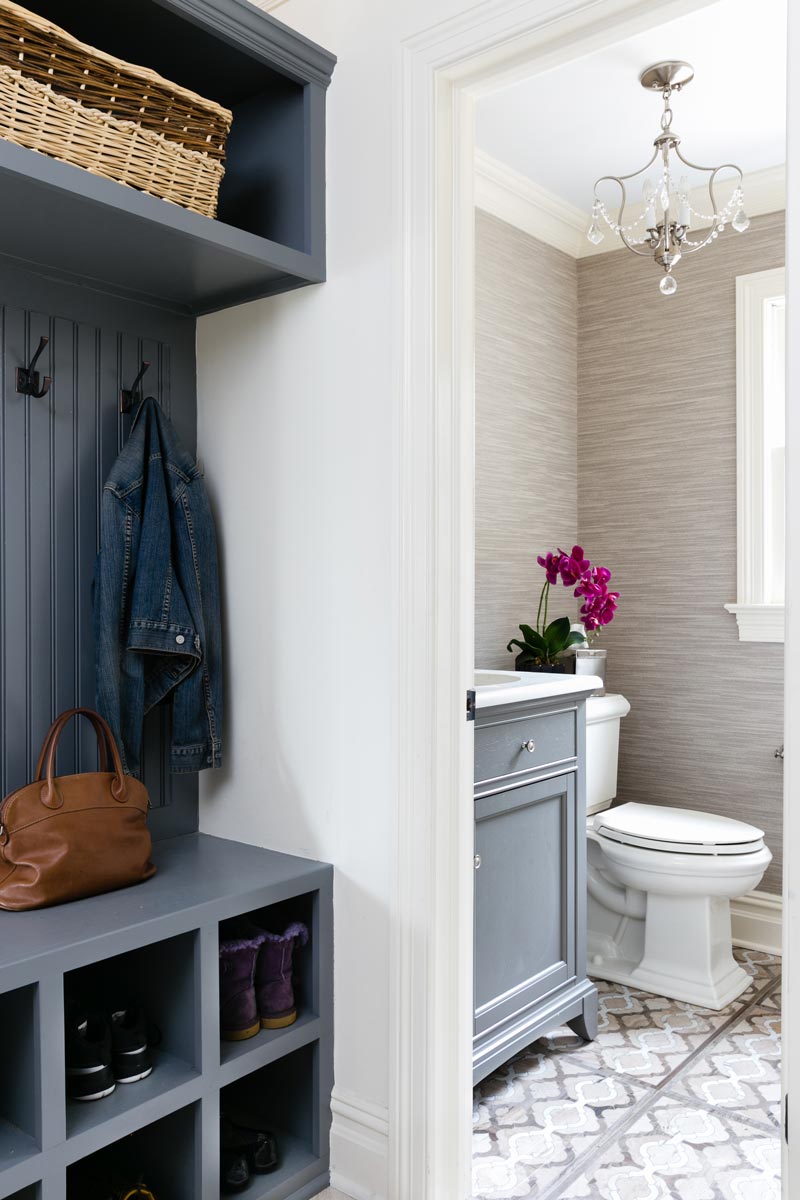 This powder room has stain resistant, textured, washable Crypton wall fabric creating a soft horizontal rhythm. The wallpaper and the adhesive are all VOC-free.
Photography - Lauren Hagerstrom
The trend toward maximalism is a departure from the more minimal, neutral look we've seen in recent years. Wallpapers designed with zoological themes, pop art, art deco patterns, intricate florals and damask prints just touch the surface of the many selections that turn neutrality upside down. Just choosing your favorite patterns or colors doesn't stop at pre-designed papers - technology has added a new level of customization. Digital printers now allow wallpaper manufacturers to create customized designs, and the sky's the limit. Designs can be scaled up or down to fit any wall, nook, section or alcove; seamless panels can be produced; and unique looks from watercolor effects to precision-sharp images can also be created.
True design maximalism goes beyond covering a room in a single wallpaper, it mixes patterns within the same visual space. Maximalist design combines multiple wallpapers in single rooms and seemingly disparate papers in adjacent rooms and hallways...and even on ceilings. But while choosing more than one wallpaper for the same space or spaces visually open to each other may seem chaotic, there is a strategy to make it work. One way is to choose a particular theme, such as papers with Asian prints, and use them in the same room or from one room to the next to maintain a commonality that ties all your spaces together so they work as a whole. Another option is to choose a variety of wallpapers that only have a particular color in common; here you can really flex your creative muscle. You might use stripes in one room, florals in another, geometric patterns beyond that, and so on. By working with lighter shades, you'll prevent the look from becoming overwhelming, and the house as a whole will flow together with a common color theme.
If you prefer a more coordinated look, you can use wallpapers with the same design in two or more colorways. With this approach, you can use more subdued colors on larger spaces and one or more bolder colors on smaller areas, making those areas pop without overwhelming the room.
For commercial applications, contract-grade wallpaper is very practical. It's strong and washable and it can delineate open floor plans while adding great interest to the décor. Properly selected, some contract wallcoverings may contain additives that resist mold and other microbiological growth on the product; as well as perforation for increased permeability. In one of our corporate office projects, we specified three different wallcovering patterns, each in gray and green and each from the same color palette, keeping the dye lots consistent with our overall design concept while simultaneously coordinating and individualizing each area. The patterns chosen are appropriate to their spaces: a large embossed brick-like pattern is in the general office area, a smaller geometric pattern is in each of the restrooms, and the smallest, more formal, contemporary moiré-like pattern is in the lobby. The pattern in the general office area - gray below the molding and green above - creates a horizontal rhythm. The colors are separated by a wood molding stained to match the doors and base trim as well as the furniture. Without compromising the integrity of the design, the wallcoverings have recycled content and meet indoor air quality standards. Low VOC paint was used in all other areas.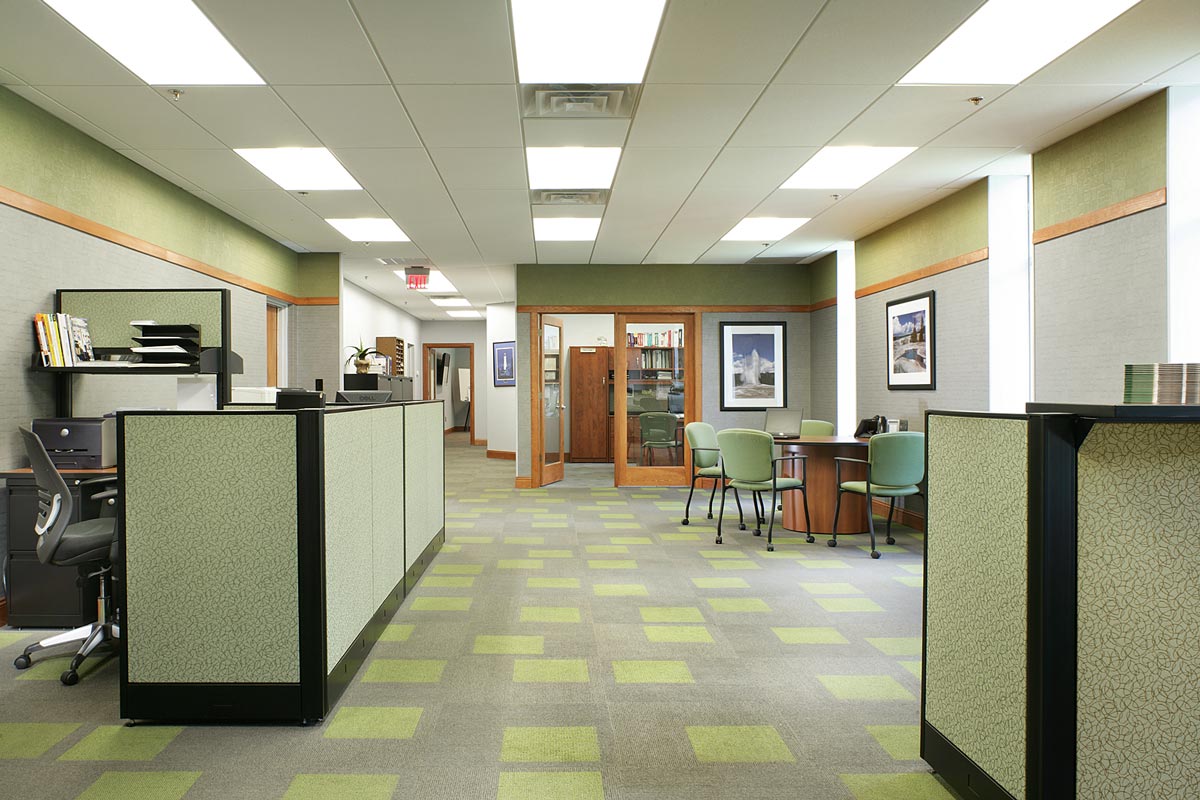 The pattern in the general office area - gray below the molding and green above - create a horizontal rhythm. Without compromising the integrity of the design, the wallcoverings have recycled content and meet indoor air quality standards.
Photography - Peter Rymwid

Of course, painted walls never go out of style, and you can always use paint to complement and draw out wallpaper colors or contrast them completely. Trends may come and go, but the most important thing is to be true to your own preferences and surround yourself with whatever makes you happy and works with your family's lifestyle.
Sheila Rich
Reader Comment:
Hi Sheila,
My name is Steve Pagliaroli. I am a professional wallcovering installer. I have been in this business for nearly 40 years. I live here in lower Westchester and I am currently the president of the Westchester County chapter of the NGPP (National Guild of Professional Paperhangers) or WIA (Wallcovering Installers Association).
I just wanted to thank you for writing such a positive and detailed article in the Journal News "Homes" section about the wallcovering business. You nailed it. You not only described the new patterns, you went into detail how these materials can work in many formats. In addition to the "Green" direction that the industry is going.
Thank you again!
Steve Pagliaroli
President / Westchester Chapter NGPP