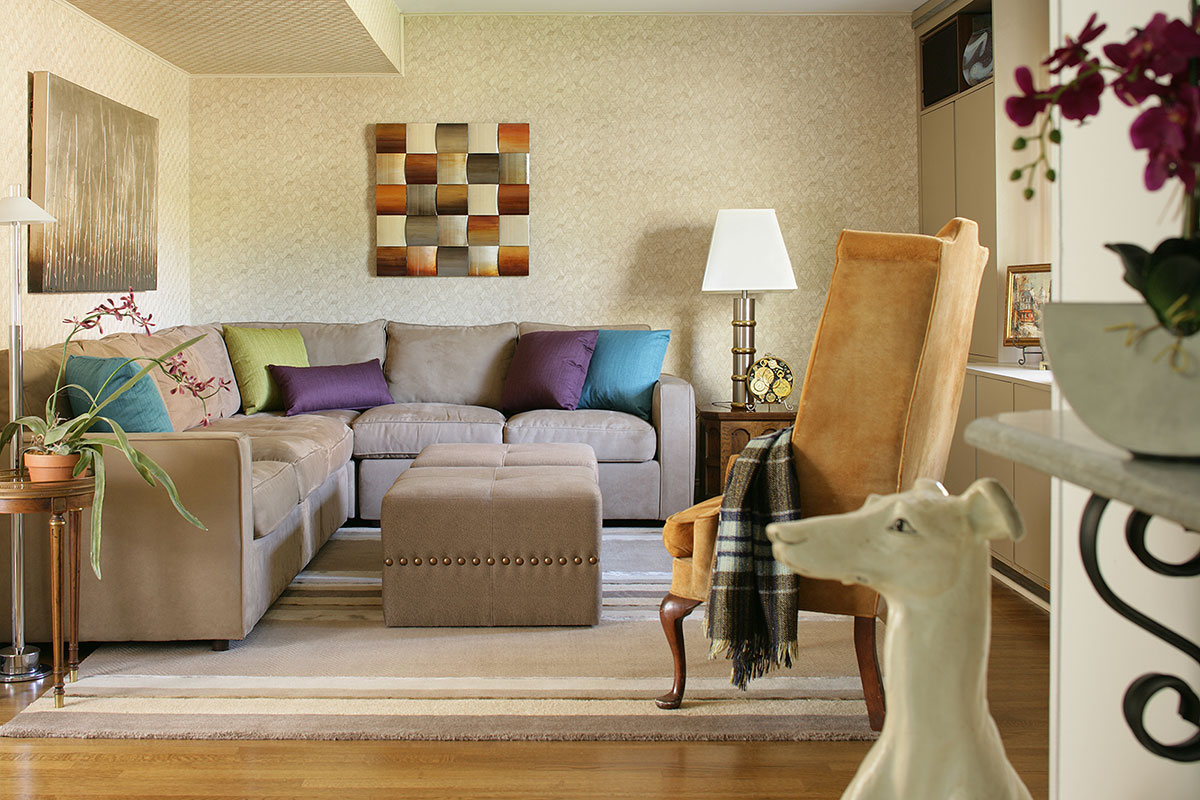 In this kitchen update, the original pink laminate countertops and dining table were swapped for granite countertops and backsplash. The cabinetry is the same but renewed with simple polished and brushed chrome hardware.
Photography- Peter Rymwid
Staging is when a realtor or decorator is hired to make the interior of a home that's on the real estate market look appealing to potential buyers. If furnishings are already in the house, they're rearranged, modified or removed for optimal appeal; if everything's been moved out, furnishings may need to be rented to show the house in a better way.
When selling a home is a last-minute decision or the home needs to sell quickly, staging services might be helpful. But why wait? Why not enjoy the benefits of a "staged home" while you and your family are still living there so you can enjoy it?
One of the first rules of staging that realtors advise their clients who are selling homes is to remove any clutter from the home. This is a good thing to do long before you decide to sell; in fact, keeping your home as clutter-free as possible benefits your daily life. Clutter tends to cause stress, whether we realize it or not, and a home is much more functional without clutter. Certified Interior Designers are responsible for the health, safety and welfare of their clients working in sync with the functional beauty of their spaces, so naturally, clutter is something we work to eliminate. It's often as easy as "a place for everything and everything in its place".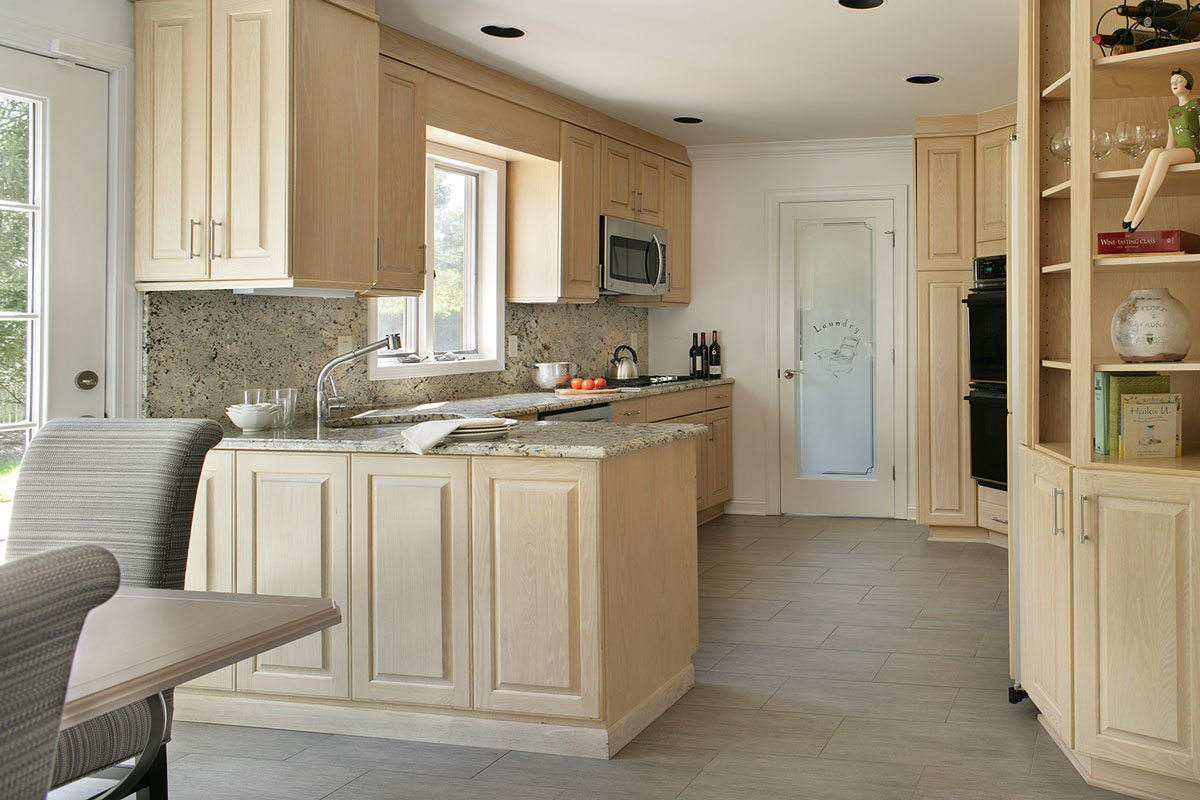 In this kitchen update, the original pink laminate countertops and dining table were swapped for granite countertops and backsplash. The cabinetry is the same but renewed with simple polished and brushed chrome hardware. The chipped ceramic tile floor was substituted with a gray porcelain tile set in a random brick pattern. A novelty door that reads "laundry" was installed at the end of the kitchen to allow warmth and natural light to come through, giving the room a spark of personality.
Photography- Peter Rymwid
This doesn't mean you need to get rid of your collections or other meaningful belongings - just the opposite, in fact. Collections can be arranged in out-of-the-way, designated display areas where you and your guests can admire them; this makes them even more attractive and prevents them from becoming broken or unattractive dust catchers. In this way you can better enjoy them and your home is clutter-free with some important staging done, regardless of whether you're planning to sell in the next few years or not.
A lot of advice about staging says to make everything in your home more generic and neutral in color, but what if you prefer color? Repainting and recarpeting shortly before moving means spending a lot of extra money for decor you won't have a chance to enjoy, but if you love color, you also don't want to spend years in a home that doesn't feel like your own. It's most important to surround yourself with what appeals to you, to walk into a home that you love every day. Even if prospective buyers don't have the same taste as you, paint color, chosen correctly, is not a deal breaker and you'll be setting your home apart from those around it.
You may want to get a professional consultation for the best ways to use colors and accents on your walls so you don't create a chaotic or overwhelming look. If you want to play it safe, you can always integrate pops of color without committing it to your walls by choosing pillows, throws, rugs or accessories in your colors of choice because you'll be taking them with you when you move and they don't impact the home itself. To create a cohesive environment, sparks of color can be added in accessories and occasionally on a single wall with neutrals in the larger spaces.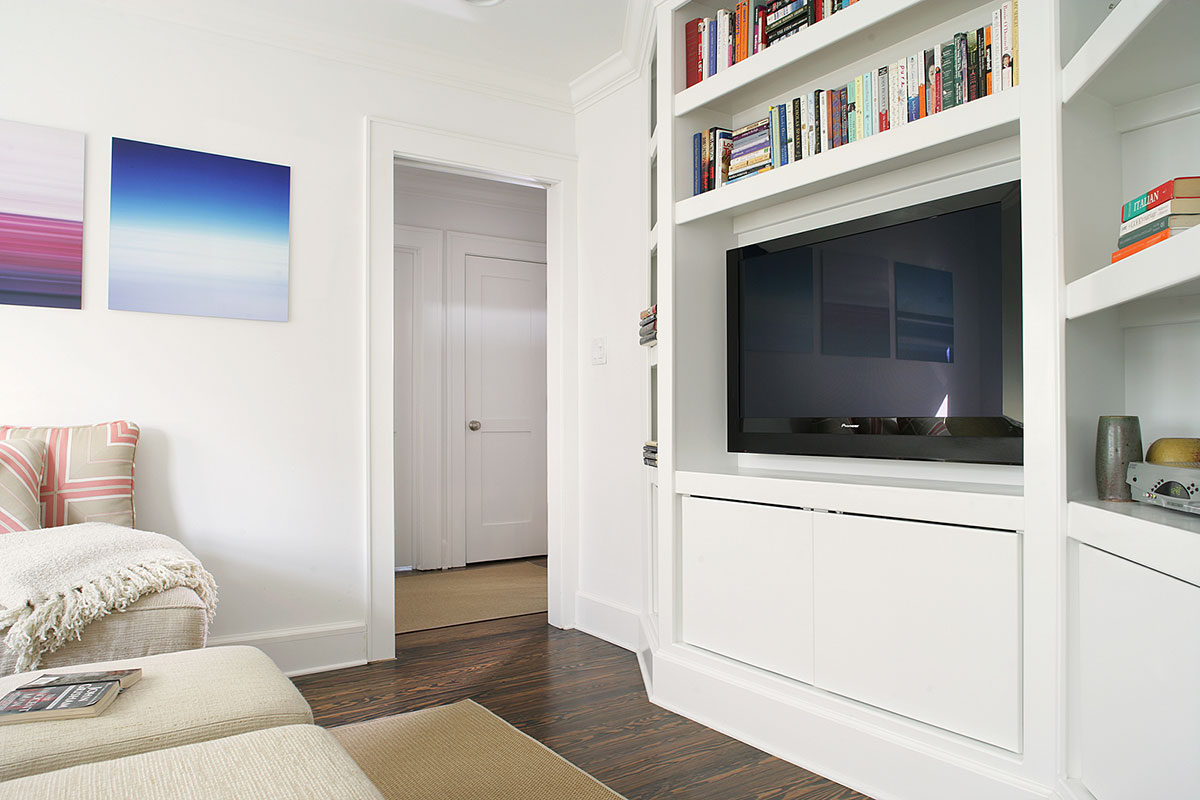 The neutral, proportionally-sized custom wall unit with strategically placed angles allows the Queen sofa bed to open with ease as well as providing open and closed storage.
Photography- Peter Rymwid
Everyone views the use of neutrals and colors differently, so please yourself and your family rather than guessing what a potential buyer might like, especially if selling is years down the road.
Sometimes achieving an optimal appearance just takes some rearranging of your existing furniture. Make sure the furnishings in your rooms are in proportion to each other and the rooms themselves. Shifting things around can create a warmer, more balanced look and refresh your space. If you have a piece of furniture with a unique color tone, add pillows or accessories that also contain that color so the piece is connected to the rest of the room rather than looking like it doesn't belong.
Whatever your personal preferences, as long as your choices are proportional to their spaces and colors are used wisely, your home will be a source of comfort and happiness to you and your family while also presenting itself well to prospective buyers, whether in the near term or in the future.