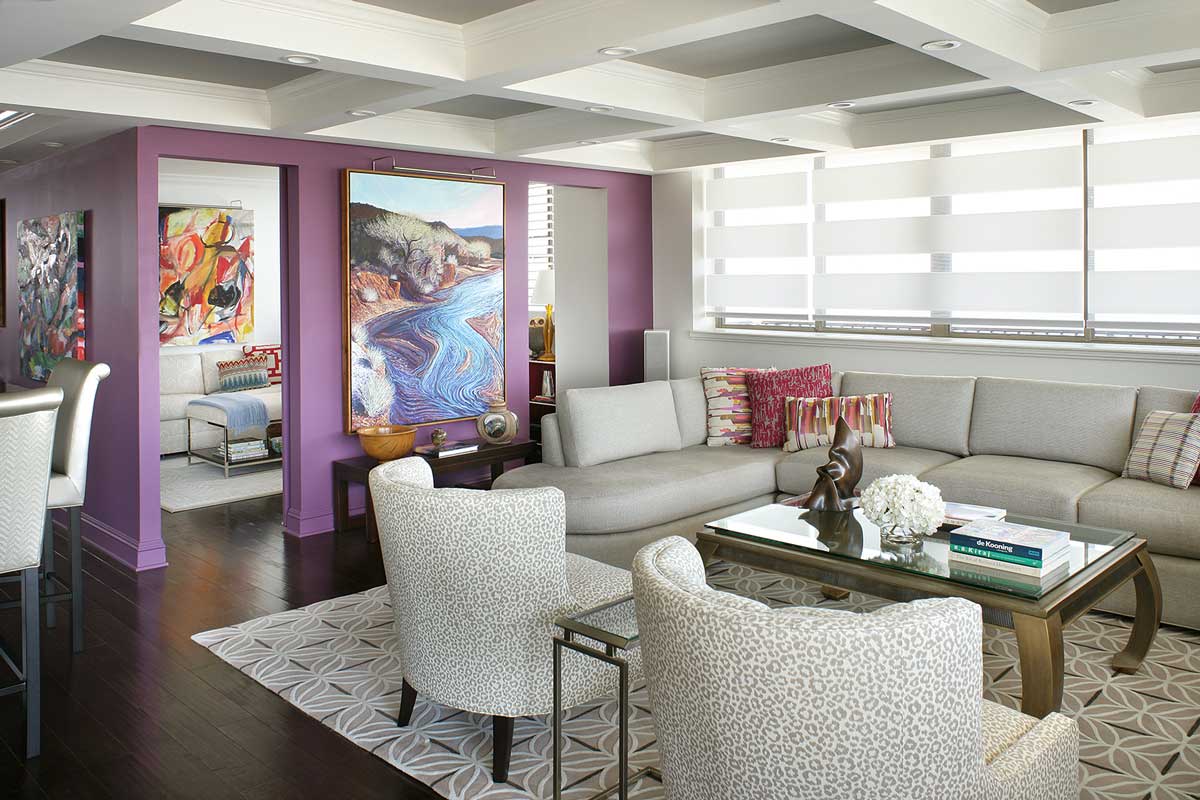 Motorized blinds are the convenient solution to protect the furniture and reduce energy consumption in summer months. The "all" option on the remote control makes it easy to maintain the pattern match on the shades in each position.
Photographer Peter Rymwid
Motorized window shades are a wonderful investment in your home and provide both practical and safety solutions for every room in the house. Safety-wise, they solve the problem of loose, dangling cords that present choking hazards for children; they also prevent the risk of frisky pets playing with the cords and causing damage either to themselves or to your window treatments. Motorized shades can also help lower your cooling bills during warm months and lower your heating bills during colder months. Window treatments in general add to the real estate value of a home, but motorized window treatments add a bit more because of their energy efficiency.
There are a few different ways you can operate motorized shades. You can opt for a remote control used within a specified range; a pre-programmed panel that opens and closes shades or blinds at specific times; shades that are light-sensitive to respond to various levels of light on their own; or shades that you can control from any distance through your iPad or iPhone. Each of these options has its benefits - the choice comes down to what works best for your lifestyle and needs.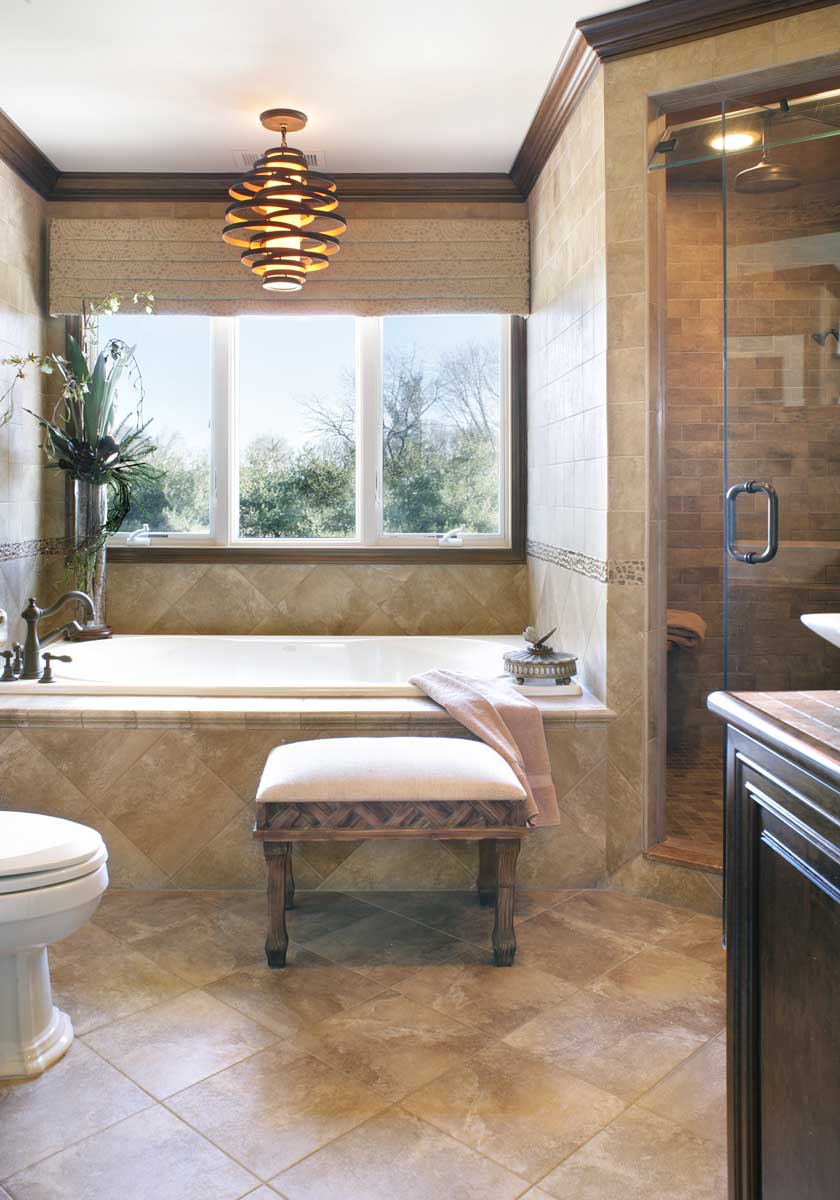 Motorization makes it easy to operate blinds in hard to reach places.
Photographer Peter Rymwid
Rooms with high windows or skylights are ideally suited for motorized window shades. Rather than leaving them uncovered even when the summer sun is beating down on your furniture, flooring and carpeting or having to climb up to close manual window treatments, motorization eliminates the risks and hazards, as well as the early replacement of faded belongings. With motorization, what was a nuisance now becomes simple, beautiful and enjoyable.
Here's a perfect example of how motorized window treatments are more than just convenient. One of my clients owned a high-rise condo; in the living room were two walls of windows that gave them beautiful ocean views. But during the summer months, the sun was so strong that it threatened to fade their furniture. Not only was this couple away often, but the blinds were difficult to reach because one set of windows was behind a large sofa and the others were behind wood furniture, so adjusting blinds manually would be difficult. Motorized blinds were perfect here because the ability to control the blinds remotely not only saved my clients' furniture, it also reduced their energy bills by keeping the condo cooler during the summer and eliminated the difficulty of climbing or reaching over furniture. In addition, the "all" option on the control allowed my clients to maintain the pattern match on the shades in each position.
There are a variety of styles, fabrics and motorization systems to choose from, depending upon which company you go with. A remote control works particularly well in certain rooms, such as a home theater or favorite television-watching spot, where shifting sunlight can affect viewing, especially if there's a skylight in the room. Similarly, a home office is another perfect place for motorization so that you can easily keep the glare of sunlight off of your computer screen and reduce eye strain without breaking away from your work. And you can darken a baby's room for optimal sleep conditions by silently lowering the blinds without going into the room and disturbing a dozing baby.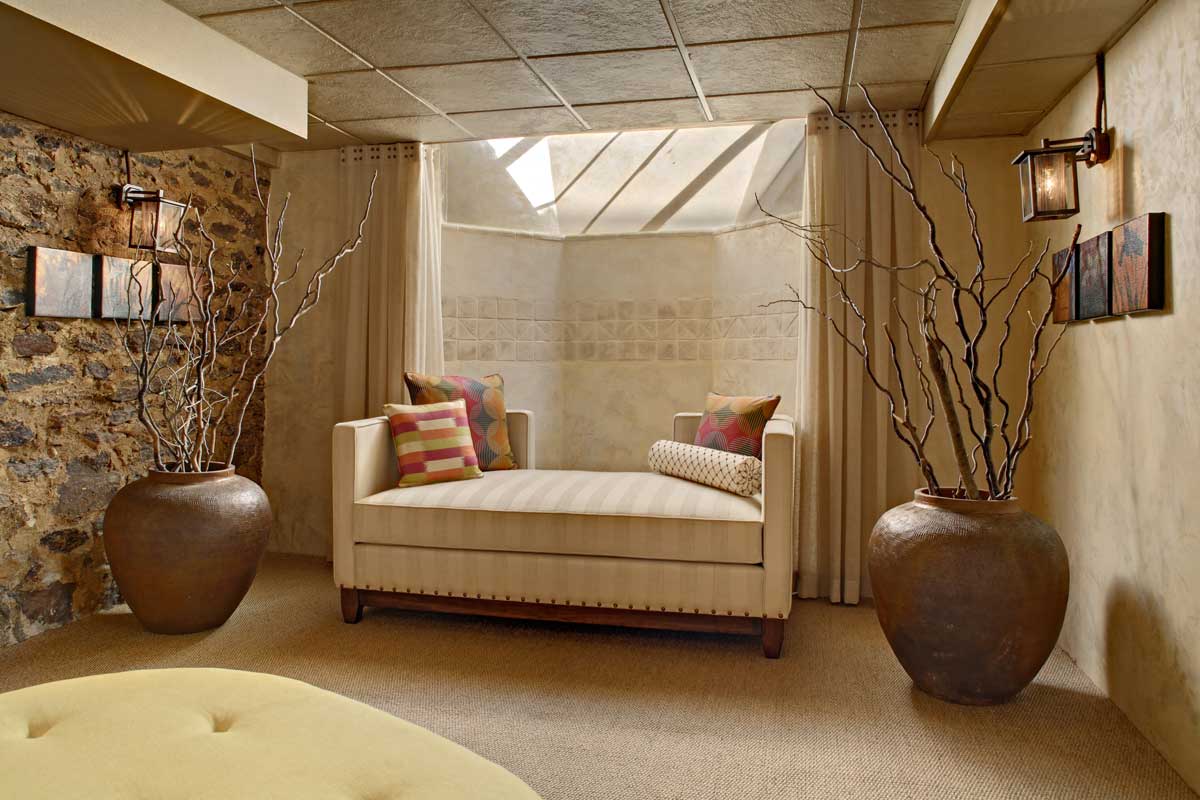 Motorized blinds cover skylights when light and shifting sun can affect furniture and TV viewing.
Photographer Memories, TTL

There are even motorized remote-controlled systems for draperies that work with straight, concave or convex tracks, which offer a variety of preset drape positions. Draperies can cut down on cold air entering a home during cold weather months, so when the light fades or a harsh wind kicks up, you can just push a button to close drapes, eliminating drafts and lowering your heating bills. Another great use for motorized draperies is in home theaters that have a curtain in front of the screen, which can then easily be opened from the comfort of your seat.
There are also security benefits to having motorized shades because shades or blinds that change position at different times of the day make it appear as if someone is home. On the other hand, when homeowners are away for extended periods and use only light timers, shades typically remain closed around the clock, a dead giveaway that no one is home.
In today's homes, customization is key, and we're seeing more shade and blind options than ever. Customized window systems mix the aesthetic with the functional; for example, pre-programmed systems offer selections of metal or colored wall plaques so you can coordinate them with your decor.
Plan ahead and add low voltage wiring if motorization is not in the first phase of your budget during construction or renovation. The systems can be added later with the wiring in place.
Motorized window treatments give you the ability to adjust the amount of daylight in your home to complement your mood, produce optimal lighting for special activities or create a more energy-efficient environment quickly and easily. And while complete smart home technology is still evolving and can be pricey, adding more affordable but highly useful components can be a great start.
Sheila Rich