When deciding on an interior design plan for a home, plenty of attention is paid to the four walls, but many times the fifth wall is forgotten – the ceiling. Just as important as the rest of your home's design, a ceiling can be enhanced to become as dramatic and unique as other areas, with attractive effects that add interest to your home. There are more ceiling types than you may think, and all of them can complement your room's style and tone. Here are some examples: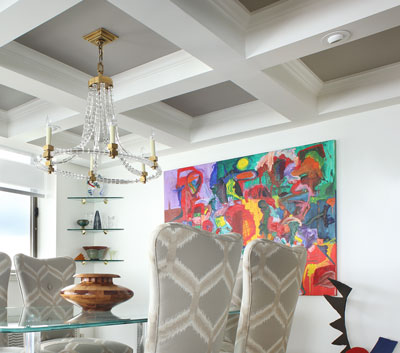 The coffered ceiling adds a quality architectural detail to this elegant and edgy dining room. Dark gray paint enhances and defines the coffers while complementing the furniture. A chandelier with beaded square glass becomes a focal point with its brass finishes. (Peter Rymwid Photography)
Conventional- Typically eight feet high with a simple flat surface, adding color or texture can aesthetically impact your conventional ceiling. However, be careful not to overwhelm the room because this may make the ceiling appear lower, which can make the room feel smaller.
Suspended/Drop- This is a secondary ceiling often used in basements; it's usually created with ceiling tiles that are laid into a metal grid. The suspended ceiling hangs below an existing ceiling and is an ideal choice to hide things like plumbing, ducting, wiring, or an original unattractive ceiling while at the same time allowing access when necessary. Be sure you have enough height in the room because the drop is about six inches. You can refresh an existing drop ceiling grid with snap-on architectural moldings and painting or by replacing the tiles.
Coffered- With many dramatic possibilities, a coffered ceiling is essentially a grid with sunken panels that are divided and often accentuated by moldings in a waffle-like pattern; the grid is created with beams that come down from a flat ceiling and create a coffer. When the original ceiling is cement, the coffers are a good solution to providing wiring for the addition of recessed lighting, pendants and speakers. Painting the recessed sections with a contrasting color will create a striking impression.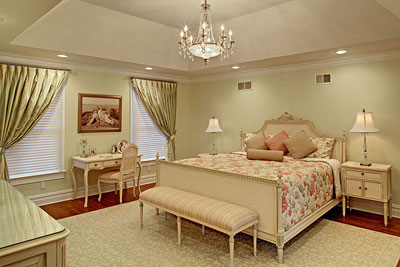 The formal crystal chandelier highlights the tray ceiling in this elegant master bedroom suite. Recessed lighting was installed around the tray to further illuminate the room. (Memories, TTL Photography)
Cove- A cove molding joins the walls and ceiling to create a hollow, graceful curve with no sharp lines or defining edges. Although they are not necessarily formal, cove ceilings are often seen in more formal settings.
Dome- These arched ceilings, created by the structure itself and not with moldings, are sometimes seen in small spaces to add volume but most frequently seen in large homes. Creative lighting and murals can add to the dramatic effects of the dome.
Tray- This ceiling has a flat, rectangular center that either pops out or is recessed to add architectural interest. Tray ceilings with recessed centers are especially well suited to smaller sized rooms (though they work well anywhere) because they add volume and give the impression of added height. Interesting effects can be created with the addition of lighting in the tray, especially LED strip lights in white or colors.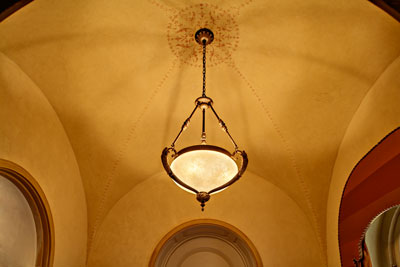 The beautiful dome ceiling in this vintage estate home is accentuated by using a shade darker on the ceiling than the walls. The ceiling's interest is further enhanced with an intricate contrasting stencil design whose delicate lines continue into the corners. A pendant up-light whispers of the home's historical heritage. (Memories, TTL Photography)
Cathedral- High ceilings - often fifteen feet high - with equally sloping sides that join in the center, creating an upside down "V" that's typically located at the peak of the house. Cathedral ceilings offer a dramatic design element as well as an open, spacious feel. Hanging a chandelier from the center fills the volume and enhances the dramatic effect.
Vaulted- These ceilings have asymmetrically sloping sides that meet at the high point of a room because the ceiling follows the roof line. Vaulted ceilings add volume and drama.
Exposed ceilings- By leaving the beams, piping, ducting or trusses exposed, spaces get a loftier, more open idiosyncratic look. In some cases it adds a historical element and in more modern settings it can insert an industrial feel. By making lemonade from lemons you can add unique character to a space by leaving your ceiling exposed.
Ceiling styles that are made by adding moldings, like coffered, cove and tray, can be created anytime, but other types that are built into the structure, such as dome, cathedral and vaulted, are best planned and installed during construction. If you're having a home built, it's best to consider the type of ceilings you'd like during the blueprint stage.