Good design goes much deeper than just making your home attractive. Besides being aesthetically pleasing, your interior design should also improve your life. An appropriate design solution creates a home that functions well within your lifestyle needs and is as much a reflection of your individual style as your wardrobe.
Career, family and friends are all wonderfully enriching facets of our lives, but with so much going on in our worlds, we need a soft place to fall at the end of the day. Your surroundings have a direct effect on your mind and emotions — a home that pleases your senses gives you that much-needed refuge while it simultaneously enhances your spirit and frees your mind to pursue your career goals.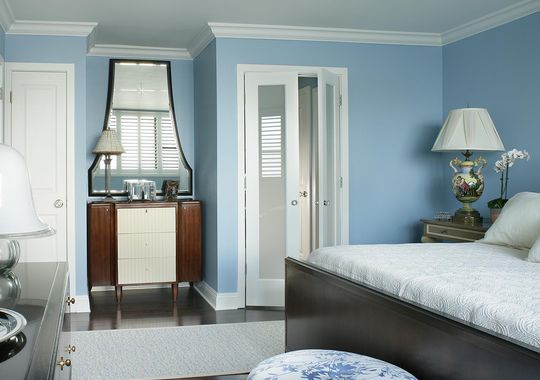 We created a niche for the Deco-style vanity and mirror by flanking it with a built out dressing area and a linen closet. (Photo: COURTESY OF Peter Rymwid)
On the other hand, if your home is in disarray or not to your liking, your thought process can become equally cluttered and disorganized.
As I always tell my clients, the one basic rule of interior design is that there are no absolute rules in interior design, but there are a few guidelines that can help you create your own perfect personal world.
(ARTICLE CONTINUES)
Color considerations

Cherished treasures

Spa solution

Relaxation refuge