No matter how much you may love the outdoors, there are times when weather or other factors can force you to stay indoors for a day or more at a time. If you live in a small home, it doesn't have to make you feel cramped or closed in – there are plenty of ways to open up your cozy home and let your decor multitask for you.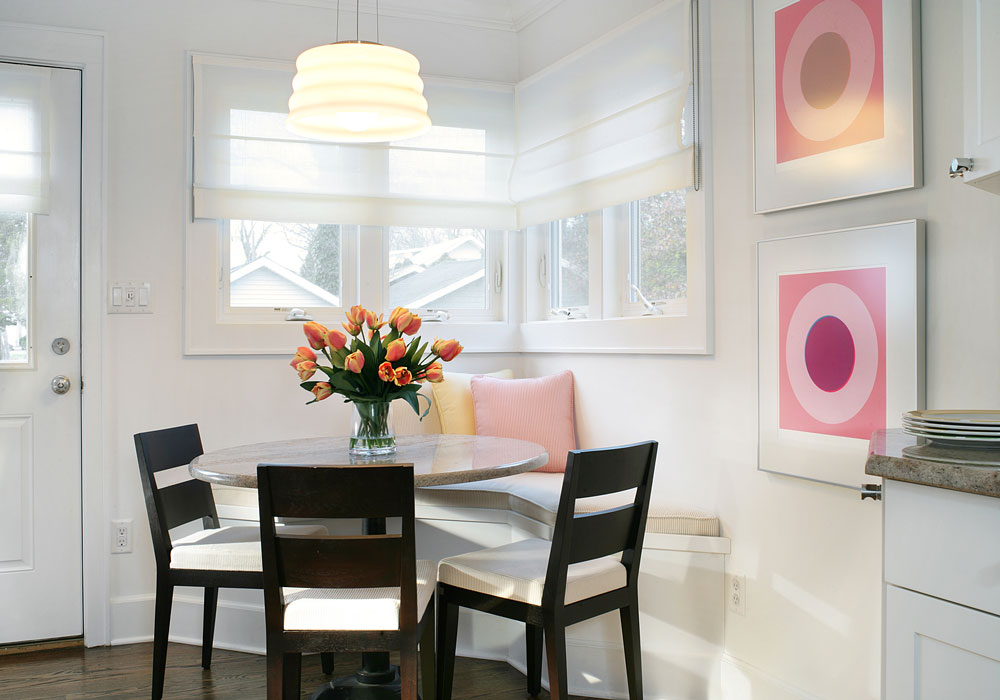 Creating Flow Like a Pro
Bring harmony to small spaces by unifying color and design. If you choose a crisp and consistent color scheme, you can create an airy atmosphere and continuous flow throughout your home. White is a wonderful foundation color for increasing the effect of light, and you can find white paints with an almost endless number of tones and tints, from blues to yellows to pinks to grays. Paint the walls, moldings, and even brick fireplaces the same tone to aesthetically expand your rooms and give them a professional-looking, unbroken flow. Paint moldings and trim with a glossy finish for subtle contrast, especially when the trim adds an architectural dimension.
To create warmth and contrast, use hardwood flooring throughout for warm tones and textures; later you can enhance it with area rugs to cozy up furniture groupings and add softness, color and texture. Think of this as your perfect, clean canvas for any colors you add to the room.
Furniture – The Great Multitaskers
Rather than buying a few larger pieces of furniture, go for smaller proportional pieces or furniture pairs (for a more symmetrical look) with coordinated patterns. Then, when friends and family visit, you can easily move additional seating from one room to the other while still maintaining a coordinated look. Consider using ottomans instead of a coffee table - they can serve double duty, both as surface areas and as extra seating. Some ottomans even have hidden storage space, adding yet another facet to their usefulness. If you have some remodeling dollars saved up, you can install window seats that multitask as seating and storage while providing a place where you can add some softness and colors with pillows.
Let There Be Light
Nothing warms a home more than ambient light, and your light-colored walls will maximize its beauty. In rooms that don't require privacy, go for a light and airy look on windows, like gauzy cotton Roman shades or perforated roller shades that have clean lines and filter the sunlight. For nighttime privacy in bedrooms, use room darkening shades that can be raised to become unobtrusive or hidden behind the window treatment during the day. Coax natural light in during daytime hours by either leaving the windows uncovered or using plain or patterned sheer treatments over the windows. Consider using recessed lighting - it keeps ceiling space open while providing perfect, even illumination, and you can add dimmers to change the mood in the room.
Color + Style = Flair!
Accessories are the best way to incorporate trendy new styles and splashes of colors in your decor without breaking the budget; when the styles or your tastes change, you can easily replace them. They also let you add spark and flair while not disturbing the overall rhythm of your rooms. Bring in some vintage or antique pieces - they not only complement contemporary décor, they also add a new dimension to your space.
Jump on the Glass Wall Trend
As I talked about in a previous column, glass room dividers are perfect for smaller spaces. Colored or frosted glass partitions can shield private spaces from view while still letting light through and keeping an open feel, while textured glass will obscure the area just enough that it's not clearly visible. And backlit colored glass creates a dramatic effect that can set a general tone while setting off accessories and artwork. Sliding partitions are easily moved so the area can be completely open when you want it that way, then closed off when needed. You can opt for either a solid sheet of glass to create a completely unobstructed divider or use smaller panes of glass set within their own frames to add extra interest and pattern.
Once your interior makeover is done, you'll be surprised at how much more functional and comfortable your cozy home's interior will be!