It's a new year, and that means lots of new design trends to explore and enjoy. One of the biggest trends being shown at NeoCon Eastfor 2016 and forward was glass. Now, you might be saying, "Glass is nothing new!" And you'd be right – manmade glass glazes date back as far as 4000 BC, and hollow glass containers have been found from 1500 BC. Fast forward to today, and the trend is colorful, textured and frosted glass panels for walls and windows, floor inserts, furniture, countertops, and backsplashes.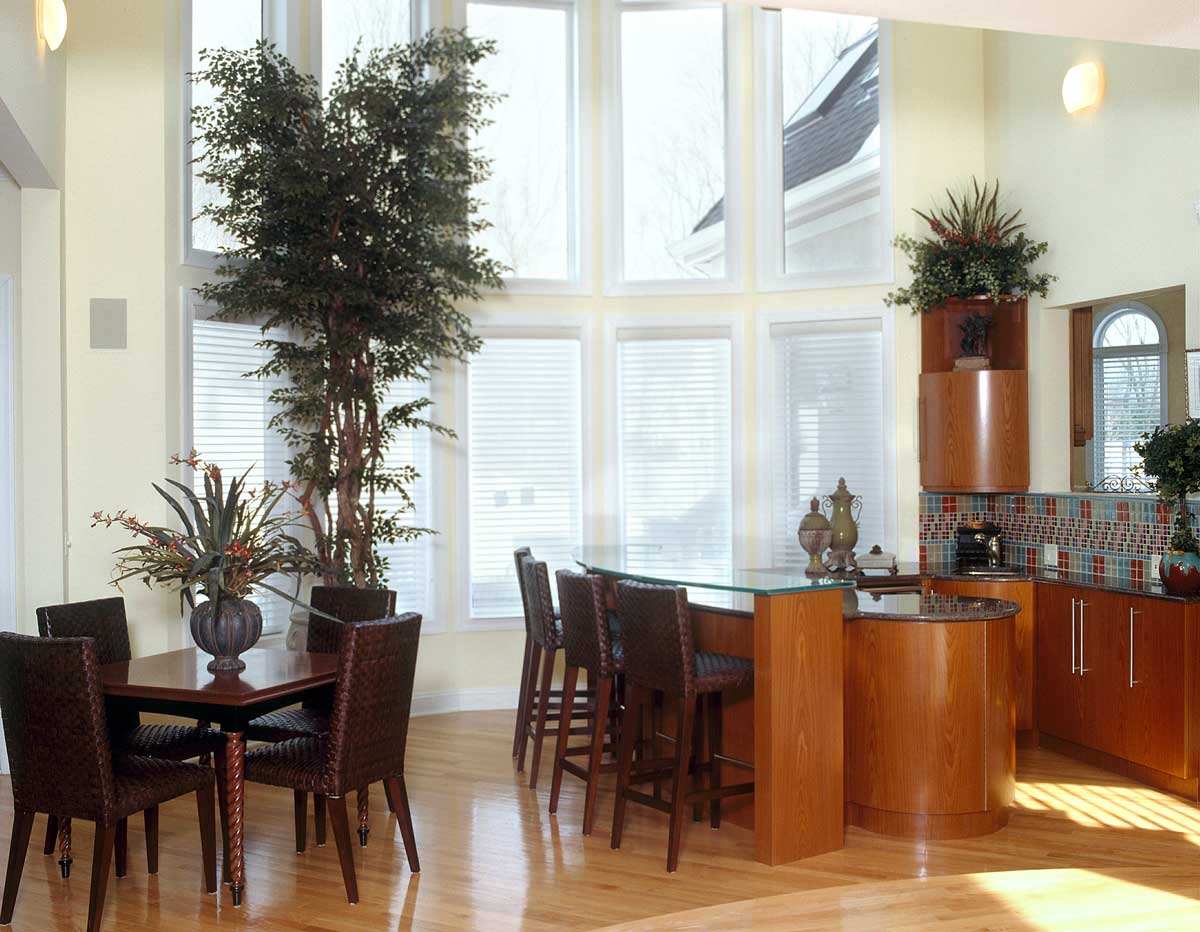 This solarium is complete with bottle green glass countertop and multi-colored glass backsplash for sophisticated contrast. (Rosemary Carroll Photography)
Sliding or stationary interior walls can be colored, textured or frosted – this offers a degree of privacy without the heaviness of a solid wall. If you only want rooms or sections of rooms blocked from sight at certain times, they obscure the view while still allowing light to filter through, keeping an airy, open feel in the space. Moveable glass partitions can be top hung or floor supported whether they're folding or sliding. The possibilities are endless.
Glass block is a popular high performance, energy efficient building material that's a very versatile option for both interiors and exteriors. Not only can it provide privacy, it's also eco-friendly. You can find glass block in a variety of colors and textures; your choice can depend on the look or amount of privacy you want. Colored panes or blocks can give a monochromatic décor a pop of color that can set the tone for artwork or other accent pieces while it gives the space a light, modern design. By using a variety of colorful blocks in a planned pattern or design, you can create a focal point that will become its own work of art.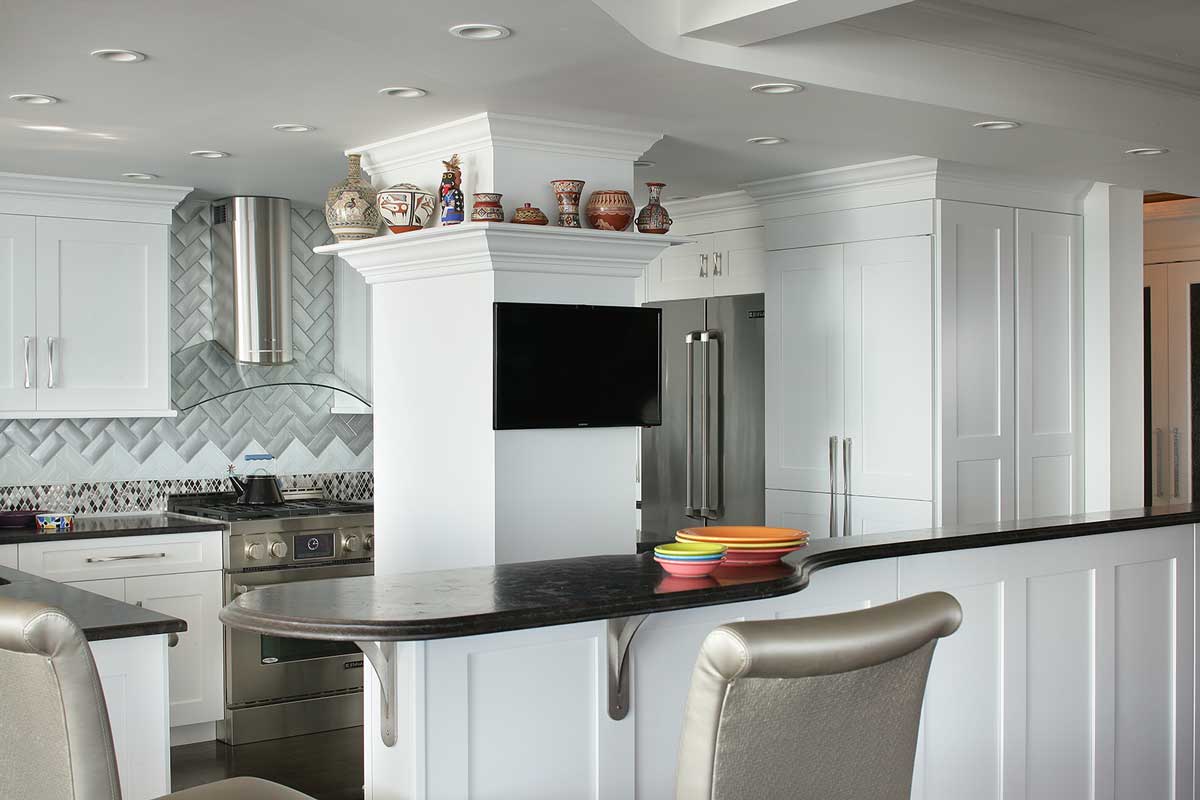 Silver and white puffy glass tile in a herringbone pattern create a unique backsplash. (Peter Rymwid Photography)
Exterior glass walls can be energy efficient and weather resistant while allowing for a clear view to the outdoors.Exterior glass block is more commonly used in place of a standard window where light is wanted but privacy is required, as long as the window doesn't need to be operational. This works well for ground-level windows such as basements because they're impervious to water, which makes them perfect for landscaping. I've also seen them used simply for their aesthetic beauty in lieu of masonry walls. For one of my residential clients, I used glass block to create a staircase and the half wall of the upper hall, both topped with natural stone. The result was an open look that added a lot of dramatic interest to the small foyer of a standard Colonial-style house.
Glass tiles and sheetsmake beautiful and efficient backsplashes and countertops. Besides being easy to clean with window cleaner, your style can really come through because of the endless choices and looks you can create. If you want to reflect a contemporary style, you may like the look of a solid sheet of glass; backlighting glass can also add additional drama. It can be colored, frosted, or have an etched pattern, but the key is that it isn't broken up by grout lines and has a very sleek, modern appearance. Glass sheets can also be used as countertops, and not just for kitchens and baths. For one of my clients, I created a thickbottle-green glass bar topthat looks like it's floating over the stone countertop; the backsplash was also done in glass tiles, which are perfect for kitchens and bathrooms as well. There's an unlimited choice of colors, textures and shapes, so you can create unique patterns in whatever tones you love.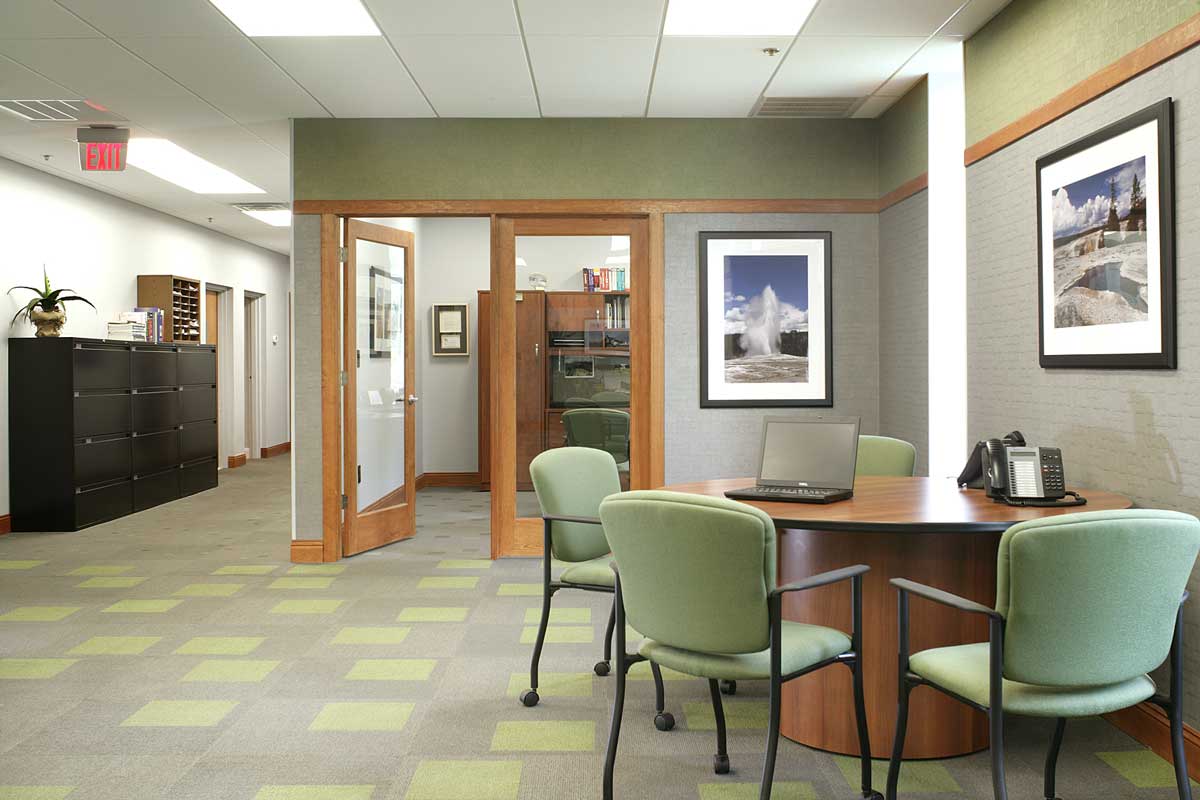 Double glass doors on the executive offices foster both accessibility and privacy when needed. (Peter Rymwid Photography)
While shower doors are a place where you expect to see glass, you can leave it minimal or jazz it up a bit with an etched pattern and/or unique hardware. Far from being standard, hardware – both door handles and supports – can complement or enhance the style of your bathroom. Glass shower doors are perfect for any size bathroom, but they're extremely well suited for small bathrooms because they visually expand the size of the room. You can also opt for sliding showerdoors that slide from the center to the wall– a great space-saver in small rooms when a pivot or standard sliding door won't work.
As you can see, glass is extremely versatile; works well with both natural and manmade materials, and can complement a number of moods and styles. It's a trend with unlimited possibilities whose time has come and one that will have some real staying power.