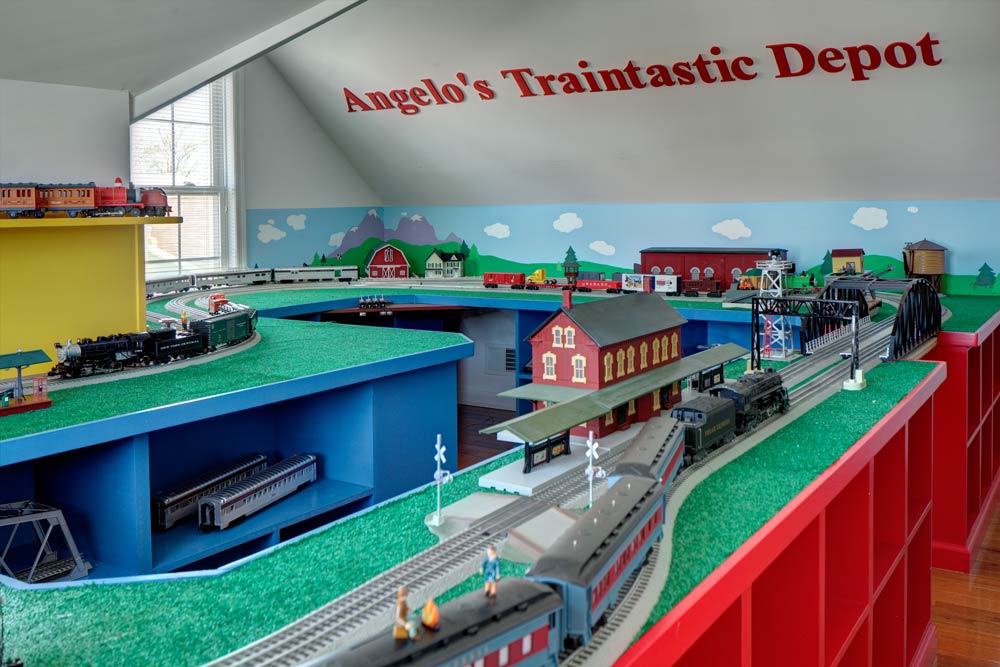 We situated this elaborate train setup along the sloped walls. The center of the room is left open for ease of use and access.
(Photo: COURTESY OF Wing Wong)
The holidays mean different things to everyone, but for one family, a Christmas tradition was born when their young son was diagnosed with a rare form of cancer. That tradition quickly took over their house year round.
Earlier this year, I worked with the Make-A-Wish Foundation to fulfill the wish of 31/2-year-old Angelo, who had recently undergone extremely difficult treatments and surgeries.
The hospital's life skills specialists used play therapy as a way to help Angelo get through these tough times, and he always chose trains as his distraction.
For those who know Angelo, this was no surprise - he has loved trains since his very first Christmas, when he was fascinated by the train set running underneath the family Christmas tree. The following Christmas he watched "The Polar Express" and fell even more in love with the magic of the holiday.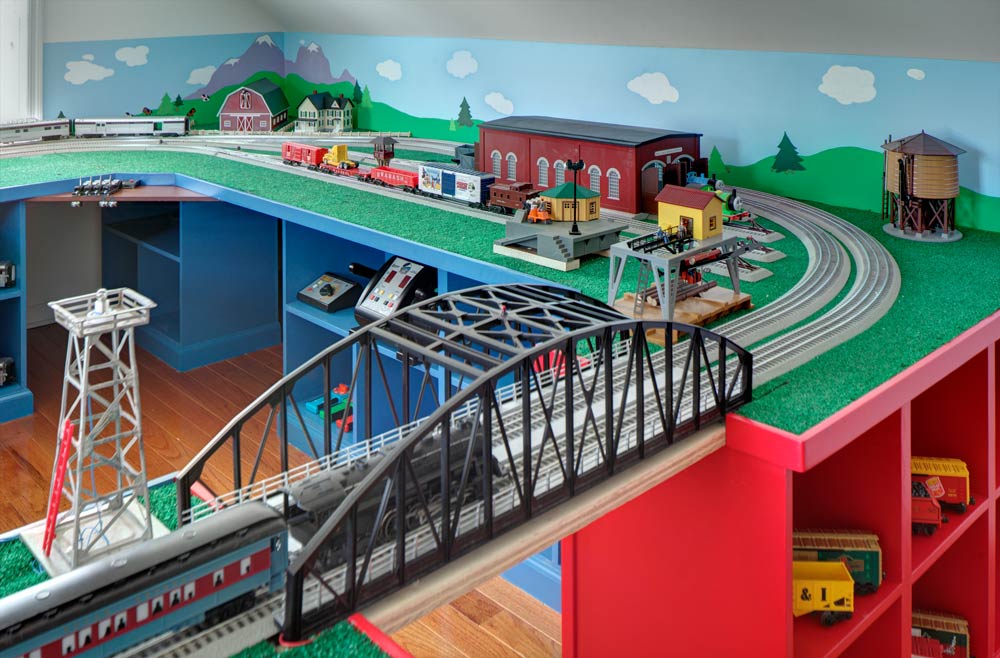 The controls are tucked conveniently into the cubbies, which are also used as storage for train cars and accessories not currently in use.
(Photo: COURTESY OF Wing Wong)
Angelo's parents began a "Polar Express" collection for him and continually added more tracks, trains and accessories to it. Angelo's train set quickly outgrew his small wooden table and was moved to the dining room, taking over the entire table, which could no longer be used for holidays and family gatherings.
The family's greatest wish for Angelo will always be, first and foremost, good health. Their secondary wish was for a designated train room so he could enjoy his passion. We were able to convert a finished attic with easy access from the second floor into our little engineer's fantasy train room.
We designed a train table to go under the sloped walls hugging the perimeter of the room. The trains are accessed and operated from the middle of the room where the ceiling is full height. As our little engineer grows taller, he and his father will have comfortable and easy access to the equipment and the remote controls.
We placed a bridge on the hinged section of the tracks, which tilts up for entry into the open portion of the table. We built cubbies and storage shelves under the table and on the walls for convenient and organized storage. Four primary colors were used for each segment of cubbies, producing a fun and cheerful atmosphere.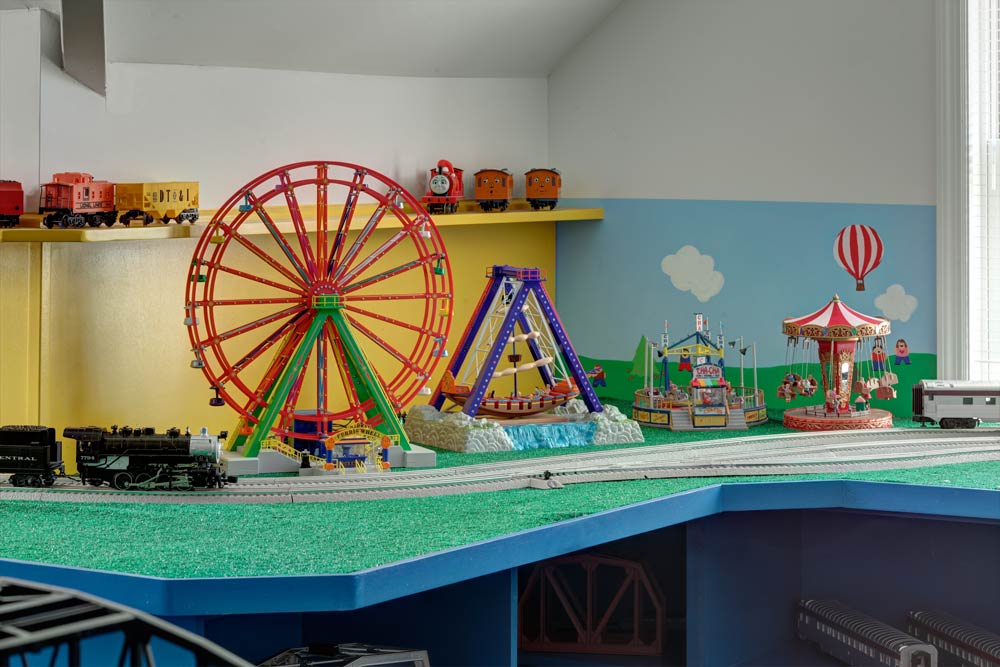 This vignette is a circus and fairground theme. Cubbies below and open shelving above offer organized, attractive and colorful storage.
(Photo: COURTESY OF Wing Wong)
We created themed vignettes around the tracks - a circus/fairground, a farm, and a wintry Christmas scene (Angelo's favorite holiday) - and painted coordinated scenes on the walls.
Angelo loved to watch as we were working in the room; one day this precocious 31/2-year-old exclaimed in excitement, "It's traintastic!".
I fell in love with his coined word and honored it by incorporating it into a room name that declares the space as his own: Angelo's Traintastic Depot.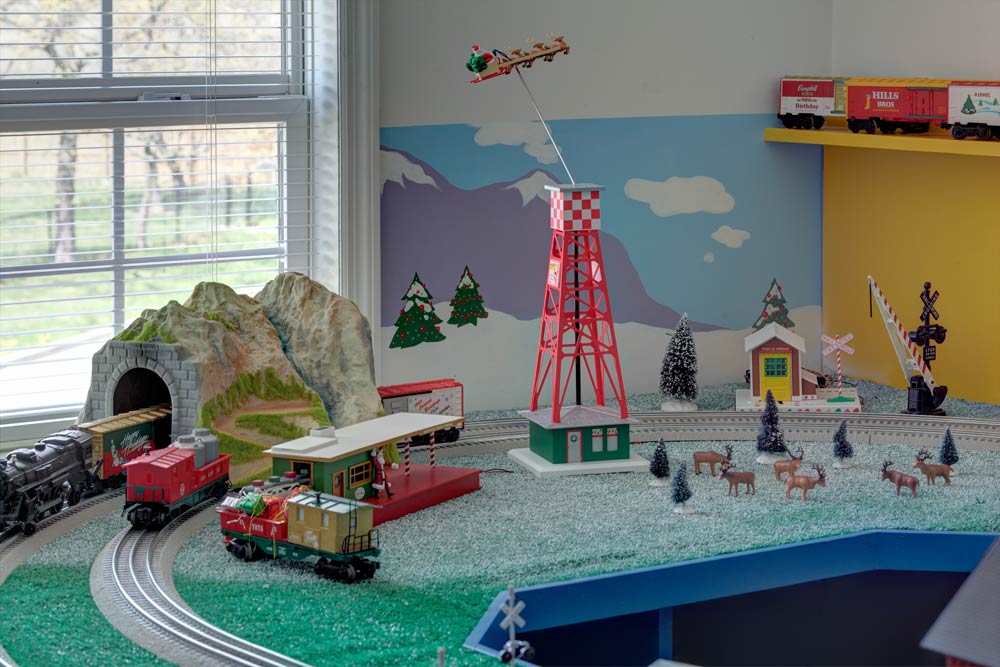 Our winter and holiday theme is complete with Santa, reindeer and gifts.
(Photo: COURTESY OF Wing Wong)
Angelo's parents told us that this was a dream come true. They love to watch their little boy joyfully operating the trains. This holiday season, the family will enjoy Christmas dinner with gratefulness on their dining room table.
Angelo's Traintastic Depot is a project that has warmed my heart forever. I'd like to take this opportunity to wish all my readers a very happy, meaningful holiday season, and we look forward to a creative new year!
If you have any design challenges you'd like help with, send your questions to This email address is being protected from spambots. You need JavaScript enabled to view it..
---